The Technical Fine Print: Our Method for Transferring 8mm Film to Digital or DVD
At Just8mm.com, we pride ourselves on providing outstanding quality when we convert your 8mm, Super 8 and 16mm film. Using custom-built equipment, we utilize a frame-by-frame capture method during the process of converting your 8mm home movie film to DVD or digital files.
First, we backlight your film reels with a low-wattage diffused light source. This eliminates the super-hot projector bulb, so it is impossible to scorch your film. Then, using a specially designed camera, we image the surface of the film. That means NOTHING comes between the film and the film imaging equipment—no screen, no wall, no plastic—and therefore you get an exact replication of what is on your 8mm film without distortion, hotspots, halos, screen texture, or focus "bleeds." Your 8mm and Super 8 film will actually look better than it does on a projector and screen, because the screen adds texture, and thus reduces resolution. Our equipment uses film guides instead of a film gate, which don't block any part of your film. That means you will see 10-15% more of the 8mm film image than you do on a projector.
We use high-quality professional imaging equipment so you get impeccable color reproduction and resolution for your transfer, whether we are digitizing 16mm film or 8mm film. We also automatically adjust the exposure throughout each film reel, which helps to lighten dark scenes and darkens overexposed films in your home movies. Our method ensures impeccable video quality with no digital artifacts, blocking, or pixelation. We proudly stand our 8mm digital transfer quality up against any other method, period.
Each 8mm movie reel we transfer will be a separate chapter on your DVD menu, with a brief descriptive title if you provide one. You can scroll down to a particular film reel you want to watch, or just start at the beginning and watch it all the way through. The DVD comes with a label and custom title you provide, along with a plastic storage case. We use archive-quality DVD media, which are estimated by the manufacturer to have a useful life of 100 years or more.
If you want your 8mm film transfer in a digital file so you can edit, rearrange, upload, or otherwise access your memories, Just8mm.com can create .mp4, or pro res .mov files and write them to a USB thumb drive. And our archive process means you can even order these digital files at a later date as well!
We keep a copy of your archive for a minimum of 6 months, filed under your name, free of charge. This service is included in our base pricing. This allows us to quickly make additional copies of your film and provides added peace of mind in case your disc and/or original 8mm reels become damaged or destroyed.
Why do we use a frame-by-frame digitizing method?
If you were to backlight a film reel and move it quickly, it would be nearly impossible to make out the image. This is because of the black lines that separate each frame of film - our eyes pick that up as part of the image and blur what we actually want to see. When this film is played through a projector, a spinning blade strategically blocks the light while the film is moving to the next frame, "deleting" the black line faster than the human eye can register it. The result is a moving image with smooth motion. In a frame-by-frame transfer, instead of a spinning shutter interrupting the image, each frame of the film is imaged separately, then assembled in computer editing software to create a moving video. This creates the same optical illusion without any extra mechanical parts. You can think of it as a flipbook or animation, which is exactly how the film is supposed to be viewed.
About Capturing Sound on Your 8mm and 16mm Films
Most film transfer companies cannot transfer sound, be it Super 8 sound film with magnetic strips, or either type of 16mm film with sounds (magnetic or optical). We do. There are plenty of obstacles that make sound capture and syncing difficult - some would say impossible - but our process enables us to capture magnetic and optical sound and match it exactly to the image that's being shown.
About High Definition Transfers:
We are proud to have recently upgraded our equipment to offer 2KHD film transfers. That said, we do not want our clients to feel obligated to upgrade to HD, or to feel like they are cutting corners if they don't pick this upgrade. The vast majority of 8mm and 16mm films digitized at standard definition look excellent, and upgrading to 2KHD is not necessary, nor should anyone expect the additional resolution to address the fundamental aging of their film. If you'd like more technical details you might enjoy our article about 2KHD vs. standard definition film transfer. Our standard definition transfer service is very good, and we are sensitive to the fact that families have many digitizing needs other than home movie film transfer, and that HD transfer is often not the best use of a limited budget. So please enjoy our HD service if it's important to you, but please also feel no pressure at all to pay for this upgrade.
About Undeveloped Film Reels: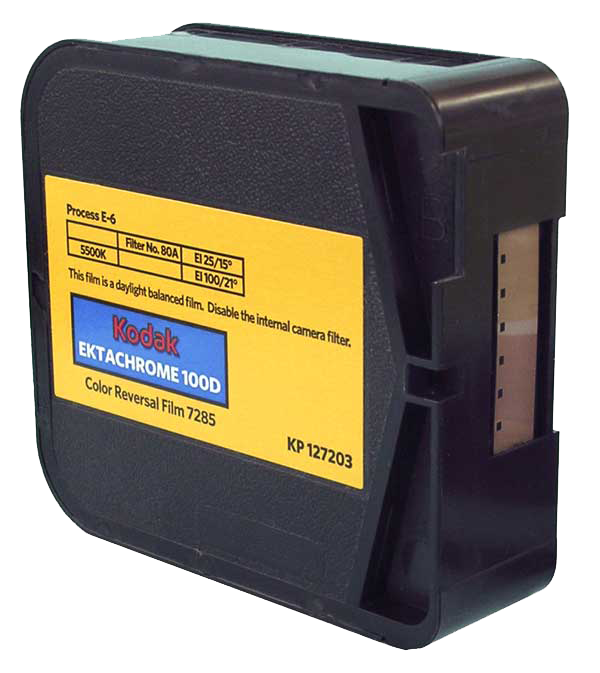 One of the services we don't offer at EverPresent is processing film reels that have not been developed. We most often see these arrive in their original Super8 cartridges. You can tell if your 8mm film reel is developed by looking at the film strip. When a roll has been completely shot, the film strip will say "exposed".

If the film strip doesn't say "exposed", it was either removed from the camera before it was finished or it is a new roll. There are still many film processors that will develop and scan Super 8 film. You can check if there is a local spot in your area that still processes Super 8.
If we receive undeveloped film with your order, we will digitize the rest of it and send it back to you letting you know that it's not developed. If it's the only item you've sent us, we'll let you know via email and send it back at no cost to you.